Die in PSYNDEX erfassten Publikationen werden präzise verschlagwortet und in Kategorien eingeordnet.
Die zweisprachige Verschlagwortung erfolgt mit den PSYNDEX Terms, einer deutschsprachigen Systematik kontrollierten Vokabulars auf Basis des englischen Thesaurus der American Psychological Association (APA)open_in_new.
Die inhaltliche Einordnung wird anhand verschiedener Klassifikationssysteme vorgenommen: nach Sachgruppen (inhaltliche Klassifikation), nach eingesetzter Studienmethodik, nach Altersgruppen der untersuchten Stichprobe bzw. thematisierten Population und nach Evidenzniveau der empirischen Studie.
Schlagwörter: PSYNDEX Terms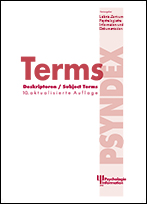 Das Verzeichnis erscheint als elektronische Publikation im PDF-Format. Sie können sie folgendermaßen zitieren (nach DGPs-Richtlinien):
Updates PSYNDEX Terms 2019 und 2020
Bis zur Herausgabe der neuesten Auflage der Psyndex Terms finden Sie hier Listen mit allen kürzlich neu hinzugekommenen und geänderten Begriffen (Google Docs):
Klassifikationschemata
Sachgruppenklassifikationen
Die inhaltliche Klassifikation von Publikationen ist in ihrer deutschen Übersetzung an die Subject Headings (SH) der APA angeglichen.
Um Publikationen gezielt nach Klassifikationskategorie zu finden, suchen Sie im Datenfeld SH entweder nach dem Zahlencode der Kategorie oder (in Anführungszeichen) nach ihren Namen, z. B. SH=2140 bzw. SH="Geschichte und theoretische Systeme".
Folgende Kategorien und Unterkategorien werden verwendet:
Allgemeine Klassifikation für Fachliteratur

General Psychology
Psychometrics & Statistics & Methodology

Tests & Testing

Sensory & Motor Testing
Developmental Scales & Schedules
Personality Scales & Inventories
Clinical Psychological Testing
Neuropsychological Assessment
Health Psychology Testing
Educational Measurement
Occupational & Employment Testing
Consumer Opinion & Attitude Testing

Statistis & Mathematics
Research Methods & Experimental Design

Human Experimental Psychology

Sensory Perception

Visual Perception
Auditory & Speech Perception

Motor Processes
Cognitive Processes

Learning & Memory
Attention

Motivation & Emotion
Consciousness States
Parapsychology

Animal Experimental & Comparative Psychology

Learning & Motivation
Social & Instinctive Behavior

Physiological Psychology & Neuroscience

Genetics
Neuropsychology & Neurology
Electrophysiology
Physiological Processes
Psychophysiology
Psychopharmacology

Psychology & The Humanities

Literature & Fine Arts
Philosophy

Communication Systems

Linguistics & Language & Speech
Mass Media Communications

Developmental Psychology

Cognitive & Perceptual Development
Psychosocial & Personality Development
Gerontology

Social Processes & Social Issues

Social Structure & Organization
Religion
Culture & Ethnology
Marriage & Family

Divorce & Remarriage
Childrearing & Child Care

Political Processes & Political Issues
Sex Roles & Women's Issues
Sexual Behavior & Sexual Orientation
Drug & Alcohol Usage (Legal)

Social Psychology

Group & Interpersonal Processes
Social Perception & Cognition

Personality Psychology

Personality Traits & Processes
Personality Theory

Psychological & Physical Disorders

Psychological Disorders

Affective Disorders
Schizophrenia & Psychotic States
Neuroses & Anxiety Disorders
Personality Disorders

EDevelopmental Disorders & Autism

Learning Disorders
Mental Retardation

Eating Disorders
Speech & Language Disorders
Environmental Toxins & Health
Physical & Somatoform & Psychogenic Disorders

Immunological Disorders
Cancer
Cardiovascular Disorders
Neurological Disorders & Brain Damage
Vision & Hearing & Sensory Disorders

Health & Mental Health Treatment & Prevention

Psychotherapy & Psychotherapeutic Counseling

Cognitive Therapy
Behavior Therapy & Behavior Modification
Group & Family Therapy
Interpersonal & Client Centered & Humanistic Therapy
Psychoanalytic Therapy

Clinical Psychopharmacology
Specialized Interventions

Clinical Hypnosis
Self Help Groups
Lay & Paraprofessional & Pastoral Counseling
Art & Music & Movement Therapy

Health Psychology & Medicine

Behavioral & Psychological Treatment of Physical Illness
Medical Treatment of Physical Illness
Promotion & Maintenance of Health & Wellness

Health & Mental Health Services

Outpatient Services
Community & Social Services
Home Care & Hospice
Nursing Homes & Residential Care
Inpatient & Hospital Services

Rehabilitation

Drug & Alcohol Rehabilitation
Occupational & Vocational Rehabilitation
Speech & Language Therapy
Criminal Rehabilitation & Penology

Professional Psychology & Health Personnel Issues

Professional Education & Training
Professional Personnel Attitudes & Characteristics
Professional Ethics & Standards & Liability
Impaired Professionals

Educational Psychology

Educational Administration & Personnel
Curriculum & Programs & Teaching Methods
Academic Learning & Achievement
Classroom Dynamics & Student Adjustment & Attitudes
Special & Remedial Education
Educational/Vocational Counseling & Student Services

Industrial & Organizational Psychology

Occupational Interests & Guidance
Personnel Management & Selection & Training
Personnel Evaluation & Job Performance
Management & Management Training
Personnel Attitudes & Job Satisfaction
Organizational Behavior
Working Conditions & Industrial Safety

Sport Psychology & Leisure

Sports
Recreation & Leisure

Military Psychology
Consumer Psychology

Consumer Attitudes & Behavior
Marketing & Advertising

Engineering & Environmental Psychology

Human Factors Engineering
Lifespace & Institutional Design
Community & Environmental Planning
Environmental Issues & Attitudes
Transportation

Intelligent Systems

Artificial Intelligence & Expert Systems
Robotics
Neural Networks

Forensic Psychology & Legal Issues

Civil Rights & Civil Law
Criminal Law & Criminal Adjudication
Mediation & Conflict Resolution
Crime Prevention
Police & Legal Personnel
Testverfahren sind außerdem mit zusätzlichen testspezifischen Klassifikationen versehen:
Testspezifische Klassifikation
Methoden-Klassifikation
Wir verwenden eigenentwickelte standardisierte Methodengruppen (Datenfeld CM - Controlled Method), von denen für jede Publikation mehrere vergeben werden können.
Methodengruppen

Empirical [10*]

Methods & Clinical Resources [11**]:

Theories & Concepts [12**]:

Outline [13**]:

Reference [14**]:

History:

Exercise of Profession:

Resources:

Special Forms of Communication:
Altersgruppen-Klassifikation
Die Zuordnung zu standardisierten Altersbereichen für untersuchte Stichproben und thematisierte Populationen entspricht dem englischen Äquivalent der APA-Gruppen (Datenfeld AGE).
Altersgruppen
Dokumenttypen-Klassifikation
Dokumenttypen (Datenfeld "DT")
Evidenzphasen-Klassifikation (bei Interventionsstudien)
Diese besondere methodische Klassifikation basiert auf dem Prüfphasenmodell der evidenzbasierten Psychotherapie (Krampen, Schui & Wiesenhütter, 2008), welches aus etablierten Modellen der Medizin- und Pharmazieforschung abgeleitet wurde.
Einstufungen werden für Publikationen vorgenommen, in denen empirische Wirksamkeitsprüfungen verschiedener Interventions- und Präventionsmethoden durchgeführt werden. Folgendes Schema kommt dabei zum Einsatz:
Evidenzphasen

Evidenzniveaus oder Phasen sind im Datenbankfeld EV kodiert. Wenn Sie danach suchen wollen, reicht es, die Phase anzugeben, z. B. EV="Phase 4".