Die in PSYNDEX erfassten Publikationen werden präzise verschlagwortet und in Kategorien eingeordnet.
Die zweisprachige Verschlagwortung erfolgt mit den PSYNDEX Terms, einer deutschsprachigen Systematik kontrollierten Vokabulars auf Basis des englischen Thesaurus der American Psychological Association (APA)open_in_new.
Die inhaltliche Einordnung wird anhand verschiedener Klassifikationssysteme vorgenommen: nach Sachgruppen (inhaltliche Klassifikation), nach eingesetzter Studienmethodik, nach Altersgruppen der untersuchten Stichprobe bzw. thematisierten Population und nach Evidenzniveau der empirischen Studie.
Schlagwörter: PSYNDEX Terms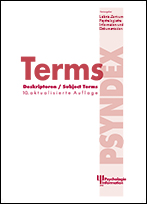 Das Verzeichnis erscheint als elektronische Publikation im PDF-Format. Sie können sie folgendermaßen zitieren (nach DGPs-Richtlinien):
Updates PSYNDEX Terms 2019 und 2020
Bis zur Herausgabe der neuesten Auflage der Psyndex Terms finden Sie hier Listen mit allen kürzlich neu hinzugekommenen und geänderten Begriffen:
Klassifikationschemata
Sachgruppenklassifikationen
Die inhaltliche Klassifikation von Publikationen ist in ihrer deutschen Übersetzung an die Subject Headings (SH) der APA angeglichen.
Um Publikationen gezielt nach Klassifikationskategorie zu finden, suchen Sie im Datenfeld SH entweder nach dem Zahlencode der Kategorie oder (in Anführungszeichen) nach ihren Namen, z. B. SH=2140 bzw. SH="Geschichte und theoretische Systeme".
Folgende Kategorien und Unterkategorien werden verwendet:
Allgemeine Klassifikation für Fachliteratur
Testverfahren sind außerdem mit zusätzlichen testspezifischen Klassifikationen versehen:
Testspezifische Klassifikation
Methoden-Klassifikation
Wir verwenden eigenentwickelte standardisierte Methodengruppen (Datenfeld CM - Controlled Method), von denen für jede Publikation mehrere vergeben werden können.
Methodengruppen

Empirical [10*]

Methods [11**]:

Theories & Concepts [12**]:

Outline [13**]:

Reference [14**]:

History:

Exercise of Profession:

Resources:

Special Forms of Communication:
Altersgruppen-Klassifikation
Die Zuordnung zu standardisierten Altersbereichen für untersuchte Stichproben und thematisierte Populationen entspricht dem englischen Äquivalent der APA-Gruppen (Datenfeld AGE).
Altersgruppen
Dokumenttypen-Klassifikation
Dokumenttypen (Datenfeld "DT")
Evidenzphasen-Klassifikation (bei Interventionsstudien)
Diese besondere methodische Klassifikation basiert auf dem Prüfphasenmodell der evidenzbasierten Psychotherapie (Krampen, Schui & Wiesenhütter, 2008), welches aus etablierten Modellen der Medizin- und Pharmazieforschung abgeleitet wurde.
Einstufungen werden für Publikationen vorgenommen, in denen empirische Wirksamkeitsprüfungen verschiedener Interventions- und Präventionsmethoden durchgeführt werden. Folgendes Schema kommt dabei zum Einsatz:
Evidenzphasen

Evidenzniveaus oder Phasen sind im Datenbankfeld EV kodiert. Wenn Sie danach suchen wollen, reicht es, die Phase anzugeben, z. B. EV="Phase 4".